This is the third part of my free lesbian tale, "Mentor Meeting". If you haven't already read them, I suggest you start with Mentor Meeting Part 1 and Part 2.
---
Reading Time: Approx. 2 – 5 mins.
Georgina quivered more than I did as her fingers trailed damp fabric between my pussy lips. The black cotton of my thong added a little friction that made my nerves fire and my thighs ache to press together. Instead I widened them as I leaned forward, nuzzling my face into her cleavage and nipping at the soft flesh of her left breast.
"You're so adorable, Sienna. I feel like I might break you."
I giggled against her chest and rolled my hips, pressing my crotch firmer against her hand. "Oh really? What are you planning?"
"I just mean…" She trailed off and I pulled back, looking up into her face and seeing the blush, the embarrassment in her eyes. She shook her head. "You know what I mean. You're young, delicate. Is this your first time with a woman?"
"Yes."
"Not for me though. I've been with women all my life."
"I can't imagine a better mentor." I slid my hand between my legs and inside my panties, rubbing my cunt with two fingers. The scent of my own arousal was strong, musky. Georgina's eyes trailed down and I dipped my hand, pushing the waistband of my thong lower to expose myself.
"I don't want to be predatory."
"I do. I want you to be predatory." I grinned and licked my lips. "Please be predatory."
I think Georgina intended to roll her eyes and sigh. She was used to being in control, to assessing situations calmly and taking the most sensible course of action. None of this was sensible. She was right, anyone could walk in on us at any moment and they'd see me fingering myself while rocking against her hips, her tits fully exposed and both our clothing dishevelled. There would be no 'this isn't what it looks like'. I think she intended to push me away and tell me to wait, perhaps to avoid this situation ever occurring again.
Instead, a bleat escaped her throat, and it was like the floodgates were opened.
The next I knew, I was thrown back against the hard wood of the desk, and Georgina was unfastening the buttons on my blouse. I moved to help her but she pushed my hands away and lifted them over my head, stretching my body long as my legs dangled over the edge of the desk.
"Stay like that," she whispered, and I nodded, trying to keep the smile from my face.
When my blouse went loose, and she pulled it open, I had a momentary urge to cover my breasts with my hands. It passed quickly when I saw the look in her eyes.
"That's a pretty bra."
"Thank you, Ms Hammond. You may remove it if you want to."
"Oh, I may?"
I nodded, a little giggle tickling the back of my throat. Her fingers traced the edge over my breasts, pulling at the soft fabric. My nipples, already hard, pulled tight. Every nerve ending in my body was strung like a fine instrument, just waiting to be plucked.
And pluck she did.
Continue to Mentor Meeting Part 4!
---
If you're enjoying this coworker boss/employee relationship, I'd love for you to check out Saffron's Punishment, which has a similar but more BDSM storyline. It's free to read in Kindle Unlimited, but I've also dropped the price to 99c/99p for the next week to give you a chance to grab a copy. It's the second in the series, so guess what? I've made the first book – Saffron After Hours – totally FREE until Tuesday!
---
Read more free lesbian erotica on NicciHaydon.com
---
Entered into Masturbation Monday Week 244. Take a look at the Masturbation Monday page for erotica, sexy images, blog posts and more material aimed at helping you get off!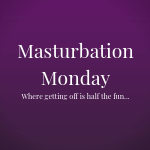 ---
Also entered for Wicked Wednesday #362, where you'll find even more masturbation fodder from the amazing community of erotic creators!