This is the fourth part of my free lesbian erotica, "Mentor Meeting". If you haven't already read them, I suggest you start with Mentor Meeting Part 1, Part 2 and Part 3.
---
Georgina lowered her face to my chest and I felt her tongue glance the flesh between my breasts. She ran it up over my bare skin, then gently nipped at my throat with her teeth. I mewled and tried to wriggle, but her hands grabbed my arms near the shoulders and held me in place.
"I told you not to move," she said, leaning further forward, bringing her face to face with me, and I felt her naked body brush against my own. Her glasses slid forward on her nose, so cute and sexy I felt the juices leak between my legs. "I'm supposed to be mentoring you."
"I'll do as you say. I promise."
"Hmmm." She dipped her head to the side and kissed my cheek as she moved her mouth to whisper in my ear. "It will be fun. Try not to move."
I nodded and she slid back down, kissing my throat, then my chest, then moving to my left nipple. Her hands fell from my arms and moved to my back, working the catch on my bra as her tongue swirled over the hardening peak, her hot breath sending the nerves pulsating even through the thin fabric.
"Oh, fuck…" I muttered, and heard her giggle as my bra came loose.
She pulled my arms forward and slid the bra up over them, then laid it next to me on the desk. "Such perky nipples."
"Do you think I'm beautiful?"
"Very."
She punctuated her words by sliding a hand between my thighs, cupping my hot cunt and rubbing gently up and down. I moaned but fought the urge to wriggle.
"Very good, Sienna." Her mouth returned to my tit, naked now, sucking my nipple inside until I began to pant. Her hand continued to move between my legs, just gently, rhythmically grinding against my pussy through the soaked thong.
"Oh, fuck, please put your fingers inside me."
She broke from my breast, pulling away even as her hand stayed right where it was. With her free hand, she pushed her short dark hair back from her face, finger combing it over her head. "We've barely begun," she said, and a grin spread over her lips. "Unless you're scared?"
"What?"
"Unless you want this over with quickly in case anyone comes in here."
The laugh rocked through my chest. "I distinctly remember it was you who wanted us to go back to your place. In case Denis Ridge showed up?"
Georgina shrugged. "I was looking out for you." Her hand left my crotch and I groaned with need.
"Don't sto… Oh, fuck."
She began unfastening buttons on her dress. The ones that hadn't already pinged off started at her belly button. I gaped as she undid them, going lower, over her belly, her pelvis, exposing more bare flesh.
"A real suspender belt?"
She nodded. "Real stockings."
Black panties plunged in a V between her thighs, the dress finally coming open completely. She slid it down her arms and let it drop to the floor, licking her lips as she stood half naked in front of me.
"Do you want me to strip further, or do you want to enjoy me like this?"
Continue to Mentor Meeting Part 5…
---
Or if you can't wait, the whole story is now available to buy as an eBook from Smashwords or Amazon! The eBook is just 99c/99p and includes the 4 parts already published, plus the next 5 parts that will be released here on my blog over the next 5 months.
---
Looking for more Free Lesbian Erotica?
---
This story is a part of Masturbation Monday Week 249. Head over to the Masturbation Monday page to find more erotica, images and blog posts!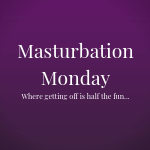 ---
Also entered into Wicked Wednesday #367. Head over to the Wicked Wednesday page for even more fun!